Peanut butter and jelly, apple pie and ice cream, Batman and Robin … you can have one without the other, but why would you want to? It's pairs like these that make the sum better than the individual parts.
Content marketing and influencer marketing are one such pair. While one can exist without the other, the power of joining the two is becoming more evident in today's influencer-driven world.
According to a January 2015 Ipsos study, 96% of people feel that the advertising industry lacks integrity. Consumers trust their peers and personal contacts far more than the brands who produce the products they are researching. This is one of the key reasons influencer marketing has become so popular. Econsultancy also claims that 74% of agencies work with influencers and 12% more are expected to jump on board as well.
Brands know that influencer marketing adds value to their marketing efforts, but how can it enhance content marketing specifically? How can an influencer marketing campaign positively influence content marketing strategies and increase ROI?
To answer these questions better, we need to step back a bit.
Where It All Began
Before influencer marketing and content marketing were popular industry buzzwords, inbound marketing prompted brands to accept a new customer-focused way to advertise.
Inbound marketing entered the scene as an answer to the decreasing popularity of interruptive marketing (a.k.a. in-your-face advertisements). If you are tired of surfing the web and seeing a myriad of advertisements popping up on your screen, so are 200 million other people worldwide who have installed ad-blocking software.
While the in-your-face advertisements may work for Rodeo Drive billboards and shopping malls, they are not as popular online. Today's consumers are savvy and their attention spans are shorter than those of goldfish. Ads interrupt their process and can be more annoying than effective.
Due to consumers' objections to online advertisements, brands needed a way to influence at a high level without shoving their products in the faces of potential customers.
Enter — inbound marketing.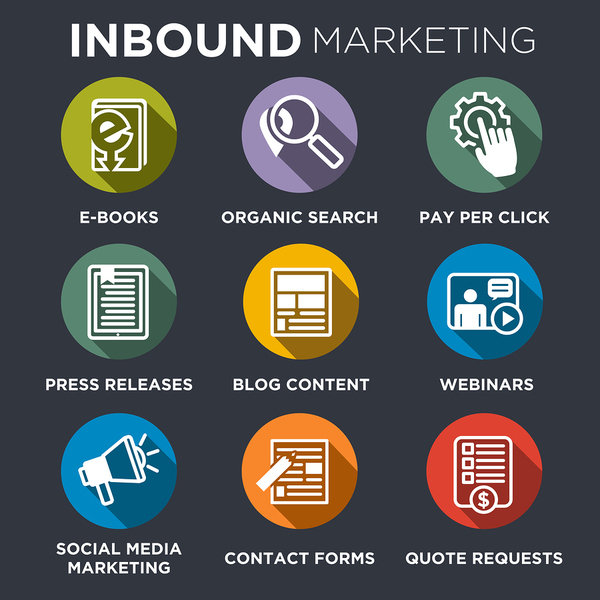 Inbound marketing is not a new subject. It's been around since 2006, but in the last 3-5 years, it is catching on as more and more brands are realizing its impact.
The principles of inbound marketing focus on trust, relevance and problem-solving. It is customer-focused, and never interruptive. It has more to do with empowering your audience with high value and, in turn, getting found by customers instead of forcing yourself in front of them. When you practice inbound marketing, you are entering the conversation your audience is already having, instead of starting conversations focused on your brand.
This breeds customer-brand relationships that center on trust — and with trust comes sales.
This graphic below, provided by Hubspot, explains the inbound marketing methodology: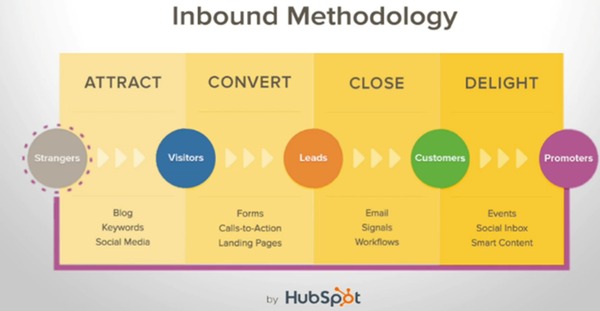 It follows the typical lifecycle of a customer when exposed to the inbound methodology.
First, you attract prospective customers to your brand with helpful, educational, targeted content. This could likely be the first time a potential customer interacts with your brand. Therefore, focus on education only and avoid selling at this stage.
Next, convert prospective customers into leads by offering a free piece of media that provides a solution to a problem they have.
At this stage, prospects will be more likely to become customers since they have already been exposed to your brand and hopefully, are now more connected to what you offer.
Once they become customers, continue to delight them and maintain the relationship over time.
Content Marketing as an Inbound Strategy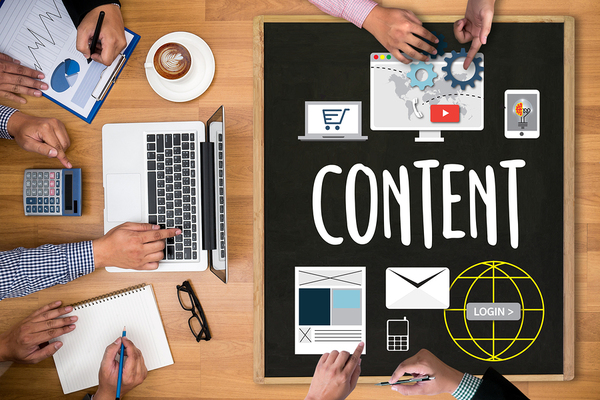 There is one common thread that connects all the stages of the inbound methodology together: Great content.
Each stage requires a specific type of content to push people through the inbound cycle. Without valuable content, inbound marketing is nonexistent.
Content marketing is a vital component of inbound marketing because it focuses on creating and distributing highly valuable, customer-focused content as a means to attract and build an army of loyal customers. It's all about the customer first and engaging them at each stage.
Let's take a look at some of the content you can use to bring potential customers through the inbound cycle and increase engagement.
1. Blog – Blogs fall into the "attraction" stage of the inbound cycle since they help to introduce your brand to prospective customers, allowing you to start the customer-brand relationship journey and build trust. Actionable, in-depth targeted blog content forms a solid foundation to a successful content marketing strategy.
2. Landing pages – Landing pages would fall under the "convert" stage of the inbound cycle as their primary focus is to turn a prospect into a lead. Inbound marketers typically use landing pages to convert people who have already entered into the attraction/awareness phase and know about your brand. At this stage, brands give away a free piece of media in return for some information from the prospect (name, email address). Brands can then continue the conversation via email and encourage the prospect through the inbound journey.
3. eBooks, whitepapers, research reports – Brands offer these pieces as lead generation tools to gather prospects onto an email list. They are one type of lead generation offer but any piece of content that is helpful to your target audience can be a lead generation piece.
4. Webinars – Brands use webinars to educate prospects on related industry topics that solve a need. Brands may also use webinars as lead generation tools or to educate and offer a product at the end.
5. Podcasts/videos – Podcasts or videos can be used at any stage of the inbound cycle but a lot of marketers use them to increase brand awareness and also to generate leads.
You can also publish multiple types of content at different stages of the inbound cycle. The strategy is to know what stage the prospect is in so you can speak directly to them with your content.
For example, you may give away an educational webinar for free in return for an email address. This is a lead generation tool. You may not want to talk about your product just yet in the webinar since you offered it as a free gift. Conversely, if you are promoting your webinar to people who are already on your email list and have engaged with your brand, the content may be different. Since these people are already familiar with your brand, you may use the webinar as a sales tool instead.
In this graphic below by Distilled, you can see more content types and where they would fit into your customers' sales cycle.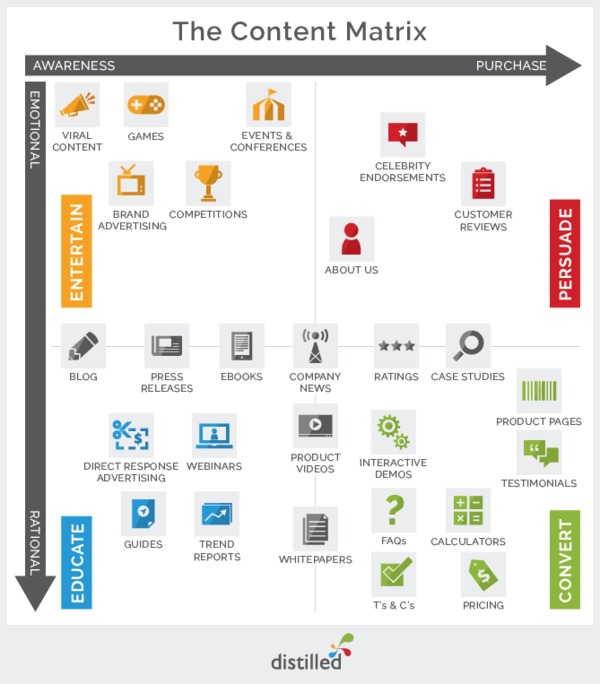 You'll notice that content such as blogs and webinars falls toward the left of the scale, as they are more educational and customer-focused. As you move to the right, the focus changes slightly as you generate leads and eventually publish content that focuses on the sale. But again, the type of content you share with specific customers is also determined by exactly where that customer is in your sales cycle.
Influencer Marketing as an Inbound Strategy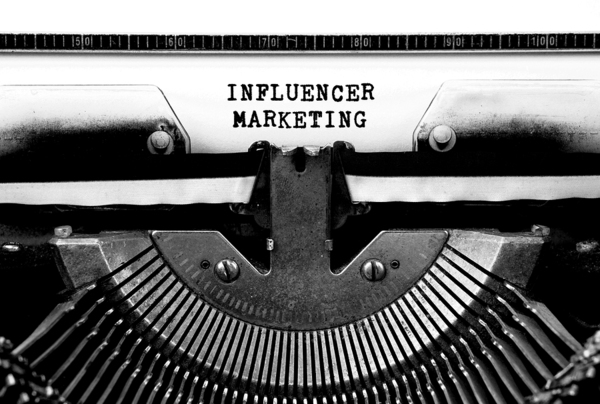 Influencer marketing, though relatively new, has increased in popularity and is fast becoming a profitable, strong component of the inbound strategy.
Influencer marketing is different than content marketing in that influencer-driven content is not controlled directly by brands; it's controlled by influencers–people who are NOT employees, nor stakeholders, yet they live and breathe the industry in which your brand seeks to influence. They are regular people who have built an audience of like-minded followers who respect and look up to them.
Influencers are the best content marketers. Why? Because they have no vested interest in your brand. Recall that the inbound methodology is centered on customer-focused content that meets and solves the needs of its audience. Influencers may do this without even realizing it and because the influencer does not have a bias towards your brand, they come across as more trusted and authentic.
Types of Influencer Content
Influencer content falls under the category of user-generated content. Influencers create content in the following categories:
1) Blogs – Many influencers have popular blogs with tight-knit communities. When they blog, their followers take notice and religiously follow their every move.
2) Images – User-generated content typically includes images. Influencers snap a shot of themselves interacting with a brand's product in some way.
3) Videos – Influencers also like to shoot videos showing the products in action. Makeup artists make over their clients and display the cosmetics brands they use on screen.
According to a Pixability study, 86% of the top-viewed beauty videos were created by influencers as compared to 14% created by beauty brands.
Cosmetic queen and online influencer, Jasmine Hand, has a large and loyal following. She creates makeover videos highlighting every product she uses on her clients, while also including a list of products in her YouTube descriptions.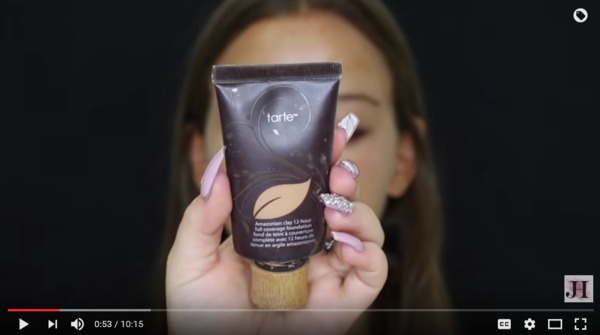 Jasmine holding up a product she is using on her client's face
4) Social content – Social content can include anything from Facebook posts and tweets to Instagram content. Social content also encompasses the other three types of influencer generated content as they all blend together. For example, an influencer can tweet an image or video, as well as a blog post.
Cadbury received an influx of tweets during its 2015 Halloween Cadbury Craveyard challenge when celebrity Rylan Clark-Neal joined the action. After the former X-factor contestant tweeted about the Halloween Cadbury Craveyard challenge, the number of related tweets increased nearly 100 times and the promotion garnered nearly 1.4 million views.
Where the Two Strategies Intersect
While content marketing is a worthwhile investment for today's modern brands, nothing brings authenticity and humanity to a brand like influencer-generated content. That's why the combination of both content marketing and influencer marketing is so powerful.
Content marketing efforts can help you publish highly valuable content that urges consumers through your sales cycle. But influencer-generated content can help bridge the trust gap between your brand and the customers you want to attract.
Influencer marketing will boost your content marketing in four ways:
1) Amplify your message – Reach an audience of people you wouldn't have access to without an influencer. Let influencers do the work for you and create a new and authentic content channel.
2) Brand awareness – If you wanted a recommendation on where to eat a nice dinner in Los Angeles, would you ask a particular restaurant in Los Angeles, or a trusted LA foodie in your social network? You would ask someone you trust and so would your audience. Increase awareness around your brand and products by allowing influencers to recommend them.
3) Increased engagement – Influencers allow brands to connect and engage with ad-blocking consumers who crave authenticity.
4) Innovation – It's difficult for brands to innovate all the time, especially when they are engrossed in numbers and data. Influencers can provide a new perspective and a creative way to use products to inspire this innovation.
As an example, the blog revelandglitter.com promoted the Pepperidge Farm Goldfish brand for the Super Bowl and used the popular snack in a creative way. The blogger created a Super Bowl game and birthed another type of story bringing inspiration to the brand.
How to Weave Your Strategies Together
If you already have a strong content marketing strategy, you can easily introduce influencer marketing into the mix.
The two disciplines will overlap once you find valuable influencers who want to connect with you and your brand.
How to Start an Influencer Campaign
The first step in starting a successful influencer campaign is finding influencers who will partner with you. This step can be tricky, however, as many will not accept your request right away.
There is an art form to finding and engaging with influencers. Here are a few tips to make the process smoother:
1. Focus on engagement – Avoid focusing solely on follower counts when searching for influencers. Look for high levels of engagement in the form of likes, shares and comments.
2. Synergy – Are you the owner of a vegan restaurant? Then it's best to avoid influencers who are proponents of the meat-based paleo diet. It sounds simple, but relevance is key when selecting influencers. Ensure the influencers' interests align closely with your brand and products.
3. Align with targets – If your target audience consists of primarily women from the ages of 18-25 and they are of a specific income level, seek out influencers who align with these demographics. Gather as much data as you can about influencers so you can match them with your brand personas and targets. The closer you get, the better.
4. Tread lightly – When you are ready to engage with a potential influencer, think before you act. The process can get tricky especially if they have never heard of your brand. You may need to start the relationship on social media and get them acquainted with you that way. Once a relationship forms, contact them via the social networks they know you from and send them an email as well. Follow up a few times but after 2-3 follow-ups, move on if they do not get back to you.
We know this process can be daunting, especially if you have been turned down by multiple influencers already, but we also know the positive impact influencer marketing can have on your bottom line.
To launch a successful influencer marketing campaign, it's imperative to find the influencers who will align with your brand messaging and culture. It's also vital that you do not waste marketing dollars on the wrong influencers, and you understand, before you engage influencers, how they can positively affect your ROI.
At TapInfluence, we remove the friction, confusion and difficulty for companies looking to partner with the right influencers.
Simplify the Process and Focus on ROI
If you don't want to start this process completely in the dark, TapInfluence can help. We save you time and money by allowing you to search for influencers directly on our platform. Get a comprehensive 360-degree view of the influencer along with 35 critical criteria you can use to predict whether the influencer will be a perfect match.
You also need to find influencers who will say "yes" to you and your brand. With acceptance rates of over 80% on the TapInfluence platform, brands turn to us to find vetted, experienced influencers who are waiting for an invitation.
We also take the influencer search a step further. We know you may be hesitant to "take a gamble" on an influencer without knowing how it will affect your marketing spend. That's why we created the CPE (cost per engagement) metric, one of the metrics we use to help you find influencers. The CPE metric will allow you to gauge which influencers will result in the best ROI for your company, before you even choose them.
The CPE metric includes data such as clicks to brand URLs, comments, likes, retweets, and more, and compares influencers as well. The CPE metric is also valuable after you start working with influencers. CPE is continually updated so it gives you a clear picture of how each influencer is affecting your ROI. Use our platform to find, engage and manage the influencers that will result in the lowest cost per engagement so you can accurately measure the result of every action of your influencer marketing campaign. All data, no guesswork.
In addition to the data, we are here to provide our professional expertise and help you with the process at every stage. If you would like a demonstration of how the TapInfluence technology can help your influencer marketing efforts, request a demo here now. We would love to partner with you to help you simplify and streamline this process so you can avoid the frustration and focus more on the returns.